Saturday, July 16
In the process of putting up the e-mails I wrote from Argentina, I'm starting to see a sort of pattern in my travels. I seem to fall immediately into a slough of despond, brought on either by complete revulsion at my surroundings, or at the very least a sense of disappointment. Sometimes I recover from this and quite often I don't. (Also, I was surprised by my excitement about the lack of electricity in Cabo Polonio. Here the electricity goes all the time...)
India is, to use the euphemism many travelers seem to prefer, too "intense," Mexico City was full of cockroaches, Italian men were vile and Patagonia was a wasteland.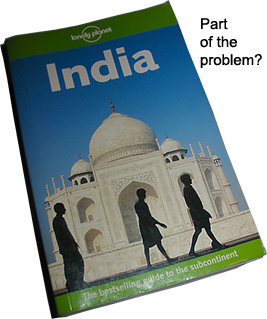 Is it that I'm doing something wrong? Does my obsessive reading of guidebooks have a part to play in all this?
I looked at some other people's travel journals, include one belonging to a former coworker, and it appears that other people go places and return with nothing but happy memories. And apparently many people come to India, especially Israelis, and have a delightful time here.
Have I gone anywhere where I didn't have to give the place time to grow on me, where perhaps the destination lived up to my hopeful imaginings? If I have, I have not kept any written record of it.
Though, judging by at least one travel journal about India that I saw, some trips acquire their luster with the passage of time. These poor fellows had their video camera stolen, wrestled with Indian bureaucracy, were kept awake by a "car horn festival" in one town and so on and so forth. But in spite of this litany of complaints, the writer concluded by describing the trip as "wonderful." Or maybe he said "unforgettable."

So, I think I must make more of an effort to find things I like about being in New Delhi. Here are some I thought of:
1. The Monsoon: It's my favorite time of year, and not just because of the respite from the heat. I love the way impending rain is announced by wind in the trees and a gloweringly dark sky. And I love the smell of coming rain and how green everything is after.
2. Cellphone service: I didn't have to go through the hassle of signing up for service, since my uncle already had a spare phone and SIM card, so I don't know what that's like. But once you have a phone, it works really well, at least in the city. And you can add money to it electronically at any stall -- it only takes a few minutes. There's always a really strong signal, and one thing that is very cool is that the cellphone tells you what neighborhood you are in. Since I am still disoriented, that is very helpful.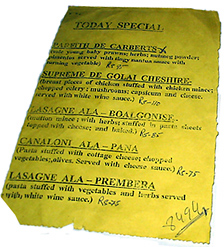 3. The Gymkhana Club: This is a very weatherbeaten place, like the Ranikhet Club established by the British, where you can still have very cheap drinks in rooms right out of Clue (the library, billiard room, ballroom, etc.). Bring your own weapon.
What I especially like about the club is their menu. It's as if someone like Salvador Dali were writing it. You used to be able to spend many happy hours puzzling over the names of the dishes and their contents, which may be why descriptions of the dishes are now included. Though they don't explain why the names of the Italian dishes have a vaguely Arabic air. One day I must meet the man (or woman) responsible for this menu. Sadly, "Masala Mothballs," a dish I remember fondly from my youth, is no longer on it.
I think that's enough positivity for one day, so I'll stop here.
I think I'm sick again. For the past few days I've been waking at 4 a.m. and sneezing very loudly seven times. Is it a cold? Is it an allergy? I don't know.
In the next installment: Some ranting about the servant system.

Sunday, July 17, 2005
It's official: I am sick again. This time I think it's some sort of viral fever that's doing the rounds because of the weather, and of course, going between frigid air-conditioning and 30-degree temperatures doesn't help. The symptoms are stuffy nose, sore throat and a 100-degree fever. I'm trying to keep the fever a secret as I still want to go to Chennai. Perhaps I will eventually go through all the gamut of diseases that are on offer here, such as jaundice, typhoid, cholera and so forth. And then after that I will have truly impressive immunity. Or be dead.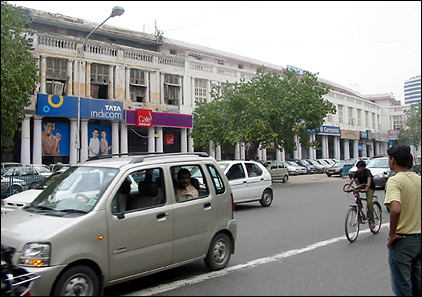 I fear this illness was precipitated by the succession of cigarettes I had on Friday night with my friend J. We went to a place called Spirit, which used to be a disco called Cellar in the 1960's and apparently my mother and her cousins used to go there. For a while it was a Lebanese restaurant and it still serves Lebanese food, but also Italian, Mexican and American food (mainly buffalo wings) for goood measure.
I already had a sore throat but it was so delightful and convivial to have a drink (several) and a smoke with someone whom I had known in another milieu – she also lived in Brooklyn for several years before deciding to spend an extended period in Nepal – and who also is having some of the same adjustment problems that I am. But she says that her family comes to Delhi from Kathmandu and marvels at the infrastructure and how much better everything works here. I suppose it really is all relative.
We walked around the inner circle of Connaught Place, which I still love even though it is so rundown and the grill work has been cut out to make space for air conditioners. It could be really beautiful if they would take down some of the "hoardings" -- immense shop signs -- give it a paint job and light the archways at night, but that's asking too much considering the constant power outages. It's historical, part of Edwin Lutyens' Delhi (he and Herbert Baker designed New Delhi in the early 1990s), but it's not really preserved the way it should be and of course the new construction is hideous and even more covered up with signs.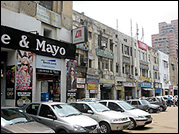 Still, I really enjoyed our walk, even though at one point a man passing us tried to caress my bottom. Always eloquent in such situations, I shouted "Badmash!" at him. Which is pretty much as effective as saying, "Naughty boy!"
Well, it can just be another one of the many situations in my life where I ruminate at night a la The Pet Shop Boys on all the things I should have said and done – kick him in the shins, slap him with a slipper -- but I never took the time.
But I digress.
One thing both J. and I agree on is how difficult it is to get used to the whole servant thing. My aunt was telling me, that at least abroad, it's not even considered a very nice word to use and when I did a search for "servants" online it's true that I found mostly Christian ministries and an essay on 18th-century bonded labor.* So the nicer way of talking about the people who cook your food, clean your bathrooms and wash your clothes is domestic help. Or if they're female, they can be called maids.
But let me call a spade a spade, after a few caveats like:
I don't know how difficult it is to run household in India or how much work is involved.
I don't know about the fringe benefits that some families may give their servants
I know that people need these jobs and are glad to have them.
I'm very judgmental and maybe also naive.
So here goes: It still shocks me that in India, and in Indian households abroad, concepts like days off, minimum wage, overtime and regular working hours are nonexistent. I have yet to meet a single family that gives their servants a regular day off, if they're live-in workers. Servants work from the time the family gets up till when they go to sleep at night. And what's worse is the way some people talk to their servants, or even shout at them. It's heart-rending when you see people that you are close to and respect (or want to respect) talking harshly to someone who's in no position to retaliate.
I always wonder what you should do in situations like that? Should you every say anything? J. said in her most understated way, "Er…you wouldn't be very popular." She said she tries to interject observations directed at nobody in particular into general conversation, as in "Did you see Batman Begins … isn't it terrible that servants don't ever get a day off!" Or something to that effect. Maybe I should try that.
And sometimes I get the sense that underlying the interactions between people and their servants is the notion that the employer has a right to treat the servants that way. As if each party – the master and the servant – had done something to justify being where they are in life. As if they were in their respective positions in life because of individual merit. And that seems very odd to me in a society where the hand of destiny is perceived behind most occurrences. Isn't it just a trick of chance that some of us have nice houses and clothes and white-collar jobs? Couldn't it just as easily be one of "us"with tousled hair on the street asking someone to buy a shoddy keychain while they gaze steadfastly into the distance.
I ofen remember a woman who worked for my family and how smart she was – she taught herself English just by watching television and she would ask such interesting questions about things she saw. Like, weren't there lots of black people in the United States, and if so, why didn't you seem them more on television programs or anchoring news shows? She was also very slim and beautiful. So in another world she might be writing a dissertation on race and the media, or she might have been "spotted," and be a famous model. But instead, she used to sweep and cook and iron and wash and fold for us and then go home to a husband who used to beat her before he had a car accident and fell into a coma and died.
It really makes you question everything you and your social class stands for. People like myself are from a class in India that considers itself well-educated and progressive. But then on a regular basis, so many of us treat large swathes of people so poorly. Me included. I remember that I was sometimes rude to people who worked for us when I was a child and also a teenager. Maybe now too. Then you wonder how anything can ever be better if that's what "progressive" people are doing. And if I ever employ someone as a servant (there's no question of it now as my salary for the foreseeable future is negligible) will I too fall into the same patterns? After all, I'm sure perfectly well-off progressive people in New York get in the habit of not giving their nannies and maids regular days off because it's not convenient.
On the flip side – yes, there's always a flip side – many Indian servants are not particularly efficient or interested in work. For instance, in my aunt's office there are six or seven "peons." I'm not entirely sure what that job title denotes, not anything very good I'm sure, but mainly I think it involves making tea or coffee. I've never seen them come around asking if you want tea or coffee, mostly they just sit in a corner twiddling their thumbs, and if you look in their direction hoping to prod them into some action, they will stare studiously at the ceiling.
Another maid we had, a very nice lady, would wash my clothes (in a machine) in such a way that they invariably came back stained. So I started sneaking into the laundry room and washing them myself when she wasn't looking. But she would turn up and insist on doing something, like hanging them up to dry, which seemed safe enough. But somewhere in that journey from the machine to the rack, all my white clothes developed mysterious yellow and blue stains.
So I imagine it's very irritating to run a house where these things happen all the time. And I know that is why people here are always complaining about their servants and calling them "morons" and "cretins" and saying they are very thick-headed. But are they really, I wonder?
Once I had a job at an internet startup where against my will, they kept pushing me away from the fun stuff to do more receptionist-like duties. Somehow or other, particularly when taking phone messages, I would always forget to ask for a crucial piece of information. Like the last name of that venture capitalist who called. Or the time of that important meeting. I really didn't do it on purpose. I just wasn't all that interested, I guess. Eventually they fired me.
*About my spelling
I knew that I would have at least some reverse culture shock when I came back to India but I didn't expect to be so similar to my 11-year-old self that I would mirror the little rebellions that I used to engage in when I went to live in the United States at that age. Like keeping my watch on Indian time for months at a time. A few years ago I read that there was a character who did that in a short story by a well-known Indian writer – I dare not speak her name. I felt upset, even invaded, to realize that what I thought was my own secret act of rejection was instead typical of perhaps hundreds of wristwatch wearing migratory misfits.
This time, though, I seem to be using language, not time, as the field upon which to dig in my heels. And the stupid thing is, I don't even like American spelling. Even after I got accustomed to using it, I thought of it as the "wrong" way to spell for the longest time. But now I find myself writing a word like "labor," and choosing not to correct it. How silly am I?

Monday, July 18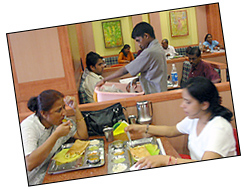 I found another thing I liked today: The Hotel Saravana Bhavan South Indian High Quality Vegetarian Restaurant. It's also in Connaught Place and it truly is high quality. I have never seen such clean bathrooms in a restaurant in India (no smells, no droplets on the seat) and that is high praise indeed. It was a sight to bring tears to the eyes.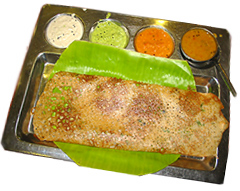 And the food was good too. I had a rava dosa with three kinds of chutney (coconut, a minty one and a tomato-based one) and a sweet lime juice. I'm not sure what a sweet lime is called in other parts of the world but it's a relative of the orange. I did have doubts about eating out two days before traveling, but I'm feeling optimistic that my immunity to local germs has increased. We shall see…
A Scottish friend of mine once had an idea of writing a travel guide that would recommend restaurants and other venues based on the cleanliness of their bathrooms. I like that idea very much.
I took an auto rickshaw home to Moti Bagh, and the driver stopped for 15 minutes to fill up gas. There was only one pump for the rickshaws and six for cars, except there were no cars because the station had run out of petrol in the afternoon. I chatted a little bit with the gas station attendants because many of whom were women. I don't recall seeing many female gas station attendants in other parts of the world.
Wednesday, July 20
My health update
It's almost three in the morning as I write this. I'm up because I've only just recovered from a bout of nausea that seized me as I was prattling telephonically to my sister (she has a new skin care regimen and she's going canoeing) in Boston six hours ago. When I saw dinner, I had to take to my bed immediately and almost pass out, though I couldn't fall asleep.
All the foods I had eaten in the last day flashed before my eyes in a mental line-up of possible perps. Could it have been those pretty chutneys, so very uncooked, that accompanied Monday's dosa? What about the cold coffee (with ice!) that I had at the cybercafe yesterday? And didn't I eat a peach, skin and all, some time this week? I feel very sad to take this nasty, suspicious attitude towards my food, since I love to eat, but under the circumstances it seems deserved.
My aunt recommended that I take a mint-based herbal medicine. After several hours of minty-fresh burps I feel better, though not sleepy. I am eating a yogurt now, but I have no spoon since I am afraid to go into the kitchen and deal with the wildlife there. I haven't thrown up, so maybe my immunity has increased after all.
That's it for me though – no more fruits, no more juices, nothing that hasn't been cooked to within an inch of its life. I really do not want to eat out anymore either, but that's rather unavoidable for the next two weeks. I suppose I'll have to eat packaged things, like potato chips and chocolate and bananas.
I have alsoresolved to try to be more kindly in future, both in person and mentally, to sickly people. I've always been quite a hardy person – before quitting my job and coming here I hadn't been ill in almost two years – and so sometimes I feel impatient with people (my mother) who are always going to the doctor. But it's really no fun to feel so unwell.
I went to the doctor for the second time yesterday for my cough and he gave me something to dilate my bronchial tubes. I have an allergy. To India, I think.
But enough of my ailments.

A Public Service Message
Terrorism is always a hot topic in India, but even more so after the temple attack in Ayodhya and the bombs in London. Yesterday, the Indian Express newspaper carried a state-sponsored announcement to encourage people to be more vigilant. Here are some of its recommendations:
Be suspicious of people who are trying to blend in.
Be suspicious of cars that are badly parked.
Avoid tall buildings and windows.
Since there are not the many tall buildings in Delhi, that one is actually possible. But as far as the other stuff goes, sufffice it to say that it is not uncommon to find cars parked up on the sidewalk, or in the middle of the road.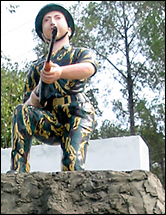 An interesting thing about the announcement is that it had a picture of a free-floating eye in the center, to denote vigilance I suppose. But the eye was blue! This reminded me of the monument to Indian military prowess my cousin and I saw in Ranikhet, where all the soldiers were pink-skinned.
My sister thought it was strange too, especially because she said that sometimes terrorists in Hindi films are shown as having blue eyes, maybe because in India light skin and light eyes are considered to be Muslim physical attributes.
Even when the topic is not terrorism, one can learn a lot from Indian newspapers and magazines on many topics.
From a lifestyle magazine at a beauty parlor I gleaned the following:
Lolita is the quintessential story of summer love.
Apply French green beans if you are prone to sunburn.
To be fair, later I realized that the Lolita in question was a character from a Hindi film and not Nabokov's little girl.
I continue to strive towards getting a job
Does anyone know what a chaebol is? I didn't until a short while ago, sadly, since it was a question on the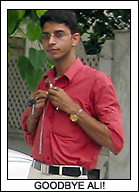 general knowledge part of a test I had to take for a possible job. There were also many questions about cricket, of which I got one out of 10 right, and that only thanks to The Hitchiker's Guide to the Galaxy. But I'm still hopeful.
Meanwhile, Ali the driver has got a new job. Instead of working for my uncle, he'll now work for my cousin. So that means no more driving adventures for us and no more nice conversations about the worst traffic lights, the difficulty of finding a good job and whether life is better for the average man in the United States or here. The new driver is not very chatty.
But Ali offered that if I ever get a job he would send me his younger brother, who is 20, as a driver, though that is a bit sad because he didn't want his younger brother to be a driver. He wanted him to have an office job. I tried to explain I wouldn't be earning very much, but he said even a "normal" salary would be okay. I don't know how much that is.
I dither about health insurance
For some time now I've been preoccupied with the idea of being run over by a car and having to spend huge amounts of money on a hospital. So I've been trying to sign up for emergency health insurance, especially because with all the times I've fallen ill and the fact that I'm traveling for a few weeks, I'm feeling rather vulnerable. Anyway I fall down a lot at the best of times (weak ankles). I went in on Monday to find out how much it would cost (about $75 for a year, which now that I am thinking in rupee terms, seems a lot). I returned on Tuesday to seal the deal but found that no business was possible because the agency's owner had died of overnight cardiac arrest (he was only 52, my agent said) and all work had been halted in order to conduct a prayer vigil.
I could go back tomorrow, or I could leave it for now. What with the money, and feeling ill and tired, I'm thinking of leaving it till I come back.
If this were a horror movie (supposing a world in which health insurance were central to a movie plot), this would be the point the audience would be hissing, "Girl, buy the insurance! Buy the damn insurance, you fool!"
Postscript
I ended up getting out of bed at noon, and then only because a hundred shards of glass (or something that felt exactly like that0 were dancing a jig in my lower abdomen. By the time I got to the bathroom I felt so weak and dizzy I had to lie down on the floor. That was quite nice. Sometimes there's nothing so comforting as lying on a cold tile floor. I would have stayed there longer but my aunt's poor mother (she's 82) has to use the bathroom quite frequently as well.
What is up with me? I think it must be as a scathing coworker once told me when I complained of aches and pains after a suspiciously cheap Chinese lunch special on Eighth Avenue – my stomach is made of kittens and lace doilies, not cast iron, sadly.
I'm feeling better now, though still weak, and going to the airport to leave forfor Chennai in half an hour. I hope I experience a miraculous bout of good health so I don't have a dozen relatives all telling me later that they told me not to over do it. Sometimes I think my family like nothing better than playing a rousing game of "I told you so."
I am feeling a bit daunted by my planned itinerary, which I have kept secret from everyone because of what their reactions would be. I am spending three days in Chennai (formerly Madras), after which I'll take a bus to the former French colony Pondicherry and spend another three days. Then I head back to Chennai and take an overnight train to Kochi (12 hours) and spend three days there. After that I hope over to Kollam, spend the night and take an all-day boat early the next morning to some place called Lollapoluza, or something like that. Then another bus ride and another 12-hour overnight train back to Chennia. Oh dear, I feel tired just reading over that paragraph.
Thursday, July 21
Chennai's airport was a brand-new vision of shiny marble and bright lights – I thought I had landed in another country. Much, much nicer than the Delhi domestic airport.
On the drive to my friend A.'s house we passed tons of neon signs, something I haven't seen a lot of in Delhi. I don't usually like neon but here it somehow seemed cheery and lively, like life was going on even at night.
I saw many interesting signs (CT Scans 24 Hours, Bless God 10.32., Mother India Is Our Pride Mother Sonia Is Our Guide) including one for a place I definitely wouldn't want to stay at: Hotel Runs.