Funny planning (July 2, 2007)
I had to go to Old Delhi last week for a little item about Kinari Bazaar. This is market that most carries fancy men's headgear -- ready-to-wear turbans in maroon and gold with sequins, plumes, tucks and pleats. Now I understand the immaculate turbans everyone was wearing at my cousin's wedding in January. On this visit I had to find fancy-dress shops and interview them. These mostly started as providers of costumes for fancy dress pageants and then branched out. One had also sorts of ultra-modern kids costumes so you could dress your child up as a hamburger, slice of pizza or -- my favorite -- a silver Nokia cellphone.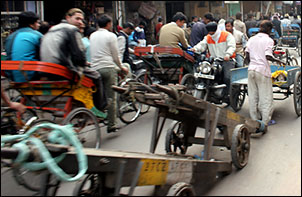 On the way back I finally went to one of the two buildings on Chawri bazaar, the paper and sanitary fittings road behind the Jama Masjid mosque, that I had been wanting to go to. From the left side of the road, while riding in a rickshaw you can see two things above street level -- one is a rooftop mosque and the other is what seems to be a French style balcony with painting in blue and guilt on the underneath of the balcony above it and sculpted nymphs stationed on either side of the windowns. It was closed by the time I got done with the costume shops.
But I was able to see the mosque and its beautiful work -- its caretaker/mullah who doubles as an expert darner told me a bit about it but I sadly forgot everything that he told me. Except that it was built after the English came and before the time of the last Mughal -- Bahadur Shah Zafar who lived out the last of his days in Burma.
I was glad to see lots of cycle rickshaws around on this visit, even though they have started to implement a very silly ban in the old city. They want to take away the cycle rickshaw from some of the historic streets popular with tourists and replace them with mini-buses to reduce congestion. But the buses are buses and the streets are narrow so wouldn't it make more sense to take away all other vehicles and leave the rickshaws?