Kathputli (Puppeteers) Colony, New Delhi. Click on a picture to enlarge.
Kathputli Colony (Monday , February 12)
The more I visit Delhi the more snatches of the best history of India come back to me. In "Midnight's Children," Rushdie writes about the acrobats' colony, which no one can ever demolish and relocate, because it whirls around the city, unfound and undefeatable.
The puppeteers' neighborhood isn't quite so elusive. I arrive with a colleague at its entrance this past week to find bands of children performing somersaults in between trying to pin each other to the ground, not all in good sport. Boys and teenagers ask us whom we want to see, if we want to see the Trust. It sounds rather too centralized, like some place where one may be made to ask for many permissions, pay fees and fill out forms, so we decline, saying vaguely that we want some information on puppeteers.
So on up the road, as kids with metal batons twirl circles made of twisted metal, and youths with curling hair and earrings, vaguely rakish looking, walk past. It's like being backstage at the circus, or at a Coney Island freak show. Women in Rajasthani dress – long tunic and billowing skirt with embroidered fringe, topped with a veil tucked demurely yet fetchingly into the midpoint of the blouse – peak from windows, some stirring large vats of meat curry. This will be sold to the wedding singers who return late at night from marriage celebrations.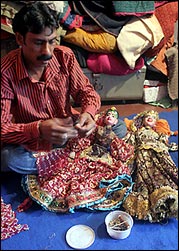 As we meander we fortunately stop at the signboard of one Santosh Bal Bhatt, International Puppeteer, whose sign proclaims that he (or rather his deceased father) has been to Dubai and Qatar, Spain, France and Holland. The sign is outside a little shack with a rope roof. Inside a large puppet is covered with a cloth and one the wall opposite, a picture of Bal Bhatt with a garland.
Santosh Bhatt sets out two grimy plastic chairs and takes out a book of commendations and photographs. One, from the British embassy enertainments committee, thanks him for a performance at a Christmas party several years ago. "Which proved a success," it says.
The women of the family are especially keen to see and talk to us, especially since the girls are pulled out of school at adolescence because of the presence of teenage boys. "It's our custom," says one of the girls wistfully, after practising a little of the English she learned from a female teacher who used to come to the house before she got a job elsewhere.






Kumbh Mela, Allahabad, Uttar Pradesh. Click on a picture to enlarge.
Kumbh Mela (written Sunday, February 4)
Little girls dressed as Ram and Sita from the epic. Holy men, wearing saffron, their foreheads marked in vertical lines, riding in a Maruti Zen. And washing. Lots and lots of washing. On a white house, on the main drag of the Kumbh Mela fairgrounds, long colorful saris hung out to dry, worn earlier no doubt by pilgrims who had come to bathe in the waters at the point where the waters of the Yamuna and Ganga meet. The Sangam.
Some words, events, facts don't become real to you until you see them in action. So too with sangam, a word I knew the meaning from looking it up: confluence. But "confluence" is abstract -- without being poetic -- and the sangam itself is very real, an actual place that you can point to or ask to go to in a boat (it costs 25 rupees but may be less depending on what you look like and the time of year. Or it could be more). It is also a lesson in geography -- if you didn't remember the course of two of India's holiest rivers before you will now. The word has a poetry too it, but you don't feel it to till you see people at the sangam, bathing, frolicking, covering themselves in mud. Joyful. So, this is the meaning, this is why a certain sort of person's eyes might light up at the word.
Other words one learns at the Kumbh Mela: Maun. Amavasya. Silence and new moon. The latter marks the holiest of the bathing days, the former is one of the ways in which to mark it. Akhara: Literally, wrestling camp. But now, more or less the equivalent of the word "order." As in Benedictine or Dominican, if we were talking Catholic monks. In this case the names are Udasin, Juna, Maha Nirvani and so on. Some orders are Vaishnavite, followers of Vishnu, the preserver. Most orders appear to be Shaivite -- followers of the god Shiva, the destroyer, he of the matted dreadlocks and cobra necklaces, who sits in meditation on Mount Kailash in the Himalayas. The Ganga arises from his hair and flows down the mountains and through the north Indian plains to Allahabad. Once it meets the Yamuna, the two flow as one to Bangladesh and empy into the Bay of Bengal. Geography and mythology are more or less in agreement.
I felt I came away from the Kumbh Mela learning a lot -- okay, a little -- about how some things work. Like the lunar calendar. The trajectory of the rivers. And what the mela itself celebrates. At some point in celestial time, the gods and demons joined in churning the ocean and extracted a nectar of immortality. One of the gods stole it and set off a battle between the gods and demons over it that lasted 12 days and nights. The gods won in the end, but not before four drops of the nectar had fallen: one at Allahabad or Prayag. People there say that Prayag is so holy a pilgrimage site that even the other gods come on pilgrimage there. Even the other pilgrimage sites made corporeal come on pilgrimage there.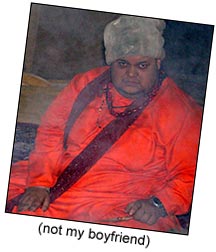 Apparently the Kumbh bestows many gifts on its pilgrims, not least of which is the possibility of salvation, of breaking free of earthly life once and for all and returning to nothingness. As for me, I came away with a more modest if unexpected blessing -- a sadhu boyfriend. His name is Baba Ballabhai Bharti and he lives in an ashram in Haridwar. I have his cellphone but fortunately he only has my office number. How we met is that on my last day at the Kumbh there was a procession of Nag mais, new women sadhus who had just been inducted, who were on their way to conduct their funeral rites to show they had truly renounced their former lives. I wanted to photograph them so I though I better ask the babas in the tent near where a group of women were performing the ceremony. This set off a feeding frenzy for my phone number and address among some of the more unsavory sadhus, including one dwarfish, rather drugged looking one with red-rimmed eyes. Sometimes I really don't agree that beauty is just skin deep. The sadhus that seemed like really lovely human beings fairly glowed and were rather beautifu. But others, less instantly likeable, were distinctly unprepossessing.
Anyway I came to my office upon my return to Kumbh and received the message that baba had called for me. Initially, since baba also means father, I though this meant my dad had called. But no. It was that sadhu who had taken my number, asking if I would like to become his disciple and learn all about the the life of renunciation first hand.