Posted April 30: Moscow airport (Wednesday , April 25)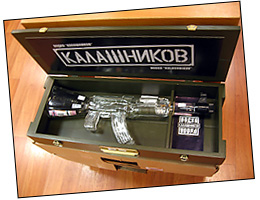 I am writing this while sitting in Moscow airport whiling away a five-hour layover on the way to New York. I bought the ticket with the mindset of my college days when not that many airlines flew to India and most flights involved a multi-city tour of the Middle East (Ah ... Muscat). The logic then was that the cheapest flight was the most uncomfortable and vice-versa, so naturally when I saw the long layovers on this flight I booked it like a shot, feeling a bit smug and oh-so-frugal in a pleasant martyr-like, "don't worry about me" fashion. Imagine my chagrin when a friend told me that now I can fly nonstop to New York for just a few thousand rupees more. My mother was fretting about how I would manage to make the time pass, but honestly, with a computer, that is no worry at all. In fact, as I sit here drinking a very delicious Bowman's Stout and writing with more concentration than I ever do in my flat in Delhi, I should probably worry a little about missing my flight. My challenge on the way back: Seven hours.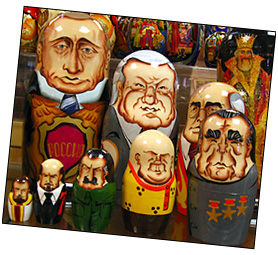 I was hoping that for that layover I could leave the airport for a bit and visit Moscow. But that is not allowed and anyway it is three degrees celsius here. I would end up squandering my raise for the year buying an emergency coat, no doubt, and shivering my way around Red Square. No matter, the airport is plenty entertaining. There is a very long arcade full of duty-free shops with thousands of perfumes, gloves, leather bags and paper mache dolls-within-dolls. What are those called? I forget. Kalashnikovs seems to be a popular element in design here -- a lot of the tee-shirts in the shop are also emblazoned with them and the glass gun above is filled with vodka. But the airport apparently thinks that everbody in this airport just wants to buy vodka and soft toys and not use their computers. I asked the woman at the transit desk where I could plug in a laptop and she told me to try the toilet. Another more helpful person told me the coordinates of a plugpoint on the wall in the upper arcade. But when I got there a slovenly American tourist had camped out under it and was charging his phone. In fact the upper level is a campground of sorts judging by all the sleeping lumps, one of whom was a Jehovah's witness if the pile of Watchtower magazines next to him is any guide.
You know what would be very cool? If I could upload this now. But airport hotspots are almost never free and this one is no exception. So frustrating.
Post-script: After all those feelings of bonhomie towards Russians at the Moscow airport, I arrived to New York and found that stuff had been stolen from my checked-in baggage. So this is why everyone was aghast when they heard I was flying Aeroflot. And they charge for alcohol on international flights! More on Aeroflot's dastardliness later.